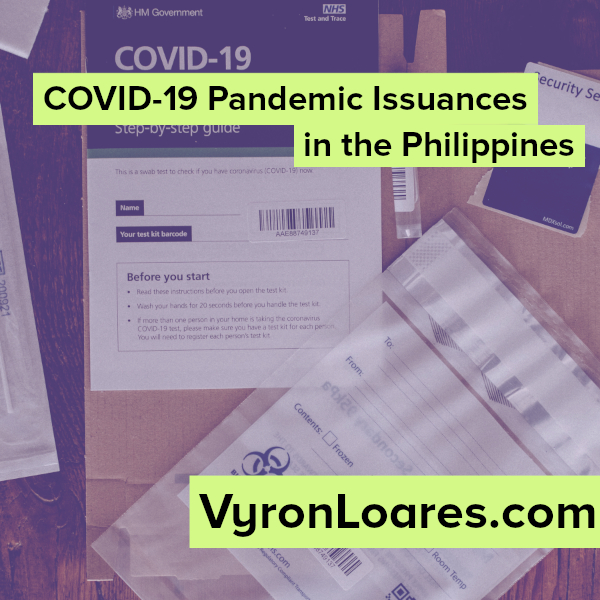 The Philippines, and the world, has been heavily hit by the Coronavirus Disease 2019 (COVID-19) Pandemic.
At time of original publication of this article, there has been 450,000 cases reported and countless jobs have been lost.
The Philippines has created the "COVID-19 Inter-agency Task Force for the management of emerging infectious diseases", also known as the IATF, in order to manage and recommend policies to mitigate and combat COVID-19.
Likewise, various government agencies have issued their own guidelines in order to adjust policies to lessen the impact of COVID-19 to business in the Philippines.
The pandemic has even moved governments agencies to adopt processing of documents online.
Business have also adapted to the pandemic to move their workforce from an office set-up to a work-from-home (WFH) set-up.
The following is a list of issuances related to the COVID-19 pandemic, note that the list is still incomplete:
The Site (VyronLoares.com) does NOT represent and is NOT affiliated with any government agency, institution, bureau, attached agency, or its subdivisions indicated or stated in any of the Site's published articles. Kindly read the Disclaimer page for more information.
Department of Health
Department of Labor and Employment (DOLE)
Department Orders
| | |
| --- | --- |
| Department Order | Remarks |
| Department Order No. 214, series of 2020 | Guidelines on processes and proceedings before the office of the Secretary of Labor and Employment, Bureaus and Regional Offices in areas under Community Quarantine. |
| Department Order No. 220, series of 2020 | Guidelines On the Implementation on the DOLE AKAP under RA 11494 otherwise known as the the "Bayanihan to Recover as One Act" |
| Department Order No. 224, series of 2021 | Guidelines on Ventilations for workplaces and Public Transport to Prevent and Control the Spread of COVID-19 |
Labor Advisory
Labor Advisory No. 31-20 regarding Payment Of Deferred Holiday Pay During The National Emergency Arising From The Covid-19 Situation
Department of Trade and Industries
Issuance
Remarks
Date
MC No.
21-14
On-Site Operational Capacity of Business Establishments, Persons and Activities in Various Community Quarantines
23 April 2021
Department of the Interior and Local Government
Issuance
Title
Date
MC No.
2021-035
Compliance to IATF Resolution Nos. 98-A and 101 on Uniform Travel Protocols for Government Officials / Personnel and other Travelers, and on the Strict Enforcement of Minimum Health Protocols
24 March 2021
Joint Issuance of DTI and DOLE
DTI and DOLE Interim Guidelines on Workplace Prevention and Control of COVID-19 issued on 1 May 2020.
Inter-Agency Task Force (IATF) for the Management of Emerging Infectious Diseases
The Inter-Agency Task for the Management of Emerging Infectious Diseases or more commonly known as the "IATF" is responsible for recommending the quarantine classifications in the Philippines.
Omnibus Guidelines issued by IATF
Joint Memorandum Circular of Department of Trade and Industry
Office of the President
Proclamation
Proclamation No. 1107, series of 2021 regarding the amendment of Holidays and Special Non-Working Days for 2021
Memorandum Circular
Professional Regulation Commission
Commission on Elections
Vyron earned his Bachelor of Arts in Psychology degree from De La Salle University – Manila and placed 9th in the 1st Psychometrician Board Exam held on 2014. A Human Resource Practitioner and an aspiring Attorney. He writes and answers questions regarding Human Resource Management for fun.
If you have found my articles helpful, share them to your friends and follow me on my socials
to be updated with my latest posts and insights!